PROFESSIONISTI CERTIFICATI
MATERIAL


TRACEABILITY

Our in-house traceability system allows constant monitoring of material and information flows. Through the use of a specific management software, assisted by a bar code reading system, all purchased products are monitored from the moment they enter LAIFE, recording all subsequent processes and the operators who carried them out, right up to the finished product. In this way, even years later, we are able to know every detail of the material used in each of our products.
NON-DESTRUCTIVE
TESTS
All welded joints are checked before they can be put on the market or undergo further processing. Our internal staff are qualified according to European and American standards to carry out surface tests, such as visual and liquid penetrant tests, as well as volumetric tests using ultrasound.
Other types of testing, such as magnetic or radiographic tests, are carried out at our premises by one of our partner companies.
PRESSURE TESTING
All our pressure tanks undergo a hydrostatic testing aimed at ensuring maximum safety of tanks, even under the most severe operating conditions.
PAINT SPRAYING

TEST

We take the utmost care of the surface treatments of our products, as they determine the durability of our products. Before being sprayed, our products are properly degreased and sandblasted while constantly checking the absence of contaminants by means of a Bresle test. We also make sure that the sandblasting carried out creates an optimal profile for paint adhesion; in any case never less than SA 2.5. The environmental conditions within our paint spraying workshop are continuously monitored: humidity, temperature and dewpoint allow us to make sure that our working conditions are always optimal for the cycle applied.
Our products are inspected by our in-house laboratory via a number of specific tests, which may include:
Thickness measurement,
Brilliance measurement,
Holiday test,
Adhesion test,
Verification of colour correctness.
ELECTRICAL

TESTS

Our machines are subjected to rigorous electrical tests to make sure the product we market is as safe as possible. Our tests may include, among others:
Continuity test of protective conductor
Insulation resistance measurement
Dielectric strength test
Measurement of discharge time and residual voltage
Measurement of leakage current to earth and leakage current on the enclosure
SECOND-PARTY
AUDITS
Our company can provide assistance in case of inspection by national and international customers. Our technicians actively support the preparation and execution of inspections. Our Quality department prepares job order books in accordance with customer specifications, in compliance with LAIFE's standards and consistently with the ITP's shared with all parties concerned.
CERTIFICATIONS
Our Quality Assurance System is continuously monitored by third-party bodies for issuing and maintaining our certifications, such as:
UNI EN ISO 9001
UNI EN ISO 3834-2
EN 1090-1
Annex F EN 1090-2
CERTIFICATE OF CONFORMITY OF FACTORY PRODUCTION CONTROL
ISO 9001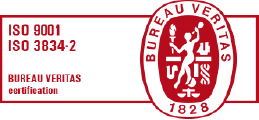 ISO 3834-2
ISO 1090 - 1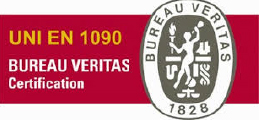 ISO 1090 - 1

CERTIFICATE OF CONFORMITY OF FACTORY PRODUCTION CONTROL
However, the strictest control, and the one we are most proud of, is the continuous control performed by the market, which has rewarded us for more than forty years.
WELDERS' QUALIFICATIONS
Welding work is only carried out by personnel with many years of experience in their job and who hold a licence issued by a third-party body. Our operators work according to specific WPS's drawn up internally in compliance with PQR's issued by leading international authorities. In total, considering the American and European standards, we have more than 30 qualified PQR's for carbon, stainless and duplex steel, as well as for heterogeneous welding.